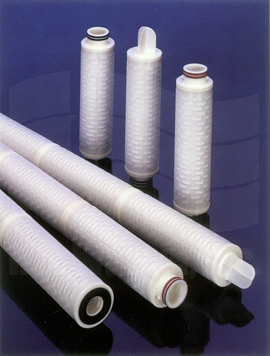 Parker Clariflow Polyethersulfone Membrane
The General Grade Clariflow Polyethersulfone Membrane Series offers standard filters for high quality applications, and also Water Grade (WG) and Water Electronics specifically for water applications.  Whether it needs to be a validated pharmaceutical or biological grade application, or a high purity water need, the Parker Clariflow meets your requirements.
Description
Parker Clariflow polyethersulfone membrane filters meet many applications in Pharmaceutical, Beverage, and Industrial markets.
Available in 0.04µm, 0.1µm, 0.2µm, 0.45µm, and 0.65µm pore sizes.
Highly bacterial retentive. validated membranes for pharmaceutical and biological filtration
Lengths from 10" to 40", all industry standard end caps options
Hydrophilic membrane requires no wetting agents or procedures
WG grade for general water filtration down to 0.1 micron, WE grade for electronics use is pre-flushed with D.I. water.
Clariflow-Wine grade for exacting needs for wine filtration.